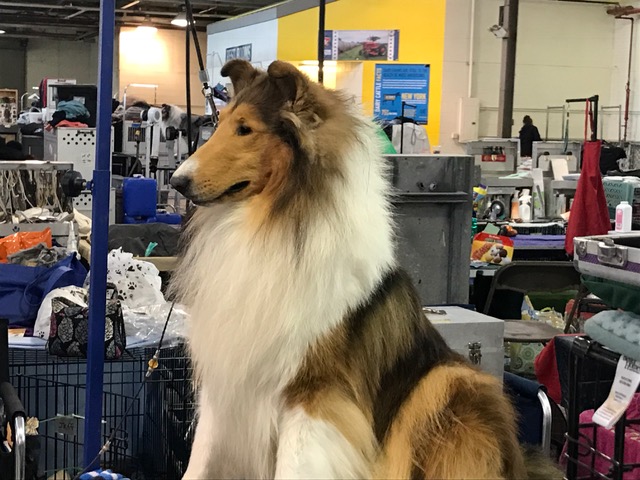 Putting on the Dogs
Story, photos and video by Bridget Chavez
SYRACUSE, N.Y. — We've all heard the saying if you fall down, pick yourself up and try again. That's exactly what you'll see if you walk into the Syracuse Obedience Training Club on Deere Road in Syracuse. On this evening in particular, Han Solo is working on perfecting his stance and balance. The black and white with touches of brown Smooth Collie is working on becoming a champion show dog. He needs to earn a total of 15 points at multiple dog shows to become a champion.
"Ah, ah, buddy put your leg back up," the trainer calls from outside of Ring 2. Han tries to balance himself on four small wooden platforms. One for each paw. The dog struggles to keep his balance but ultimately stumbles on his hind legs.
He lets out a small whine as if to say, "I messed up. I can do better. Let me try again."
"No dog is perfect," Candace Ardizzone of Travler Collies says, "but it's working to get as close as possible to perfection.
Lifetime love
Ardizzone has been breeding and handling dogs since she was eight years old. Ardizzone's parents took her to get a puppy and the breeder was saving the Collie for a show home, where dogs are bred for dog shows, such as the Salt City Cluster at the New York State Fairgrounds, where we met Ardizzone.
"And my parents said, 'Oh, that sounds like a fun hobby," she laughs, "Little did they know. The petite 58-year-old is just as passionate for the sport today as she was when she was a little girl, passing on her love for dogs to her daughter.
"I've been doing this since before I was born," daughter Bree laughs. The 24-year-old says she does it simply because of the dogs. The two say they've handled other breeds but Collies are the breed they are passionate about.
"There's nothing like the phone call at the end of the day to tell the owner I got a point on your dog," Bree says,"Nothing like that feeling."
More than a pretty face
But these Collies in particular serve a greater purpose beyond the ring. Many of them go on to work as service dogs for people with disabilities. They work with Freedom Guide Dogs in Utica, N.Y. and have about 30 Collies working as service dogs helping veterans with PTSD, children with autism, a woman with diabetes and guiding the visually impaired, to name a few.
"As much as I love hearing how beautiful they are from the judges my dogs do more than that," Ardizzone says, "They make a difference to humans and make their lives better." One in particular that stands out is a Rough Collie by the name of Freddy. Not only is he a champion, but he now lives on a farm herding sheep and guiding his blind best friend.
Ardizzone says the skills the dogs learn to compete in shows transfer over to skills needed as a service dog. After several failed attempts, Han finally stands on the four small wooden platforms with ease.
"Once they've got it, they've got it," Bree says. Standing on the platforms in particular trains the dog to be still and maintain posture for shows, but also if Han goes on to become a service dog he already has learned to stand at attention and remain still.
"They just know," Ardizzone says.