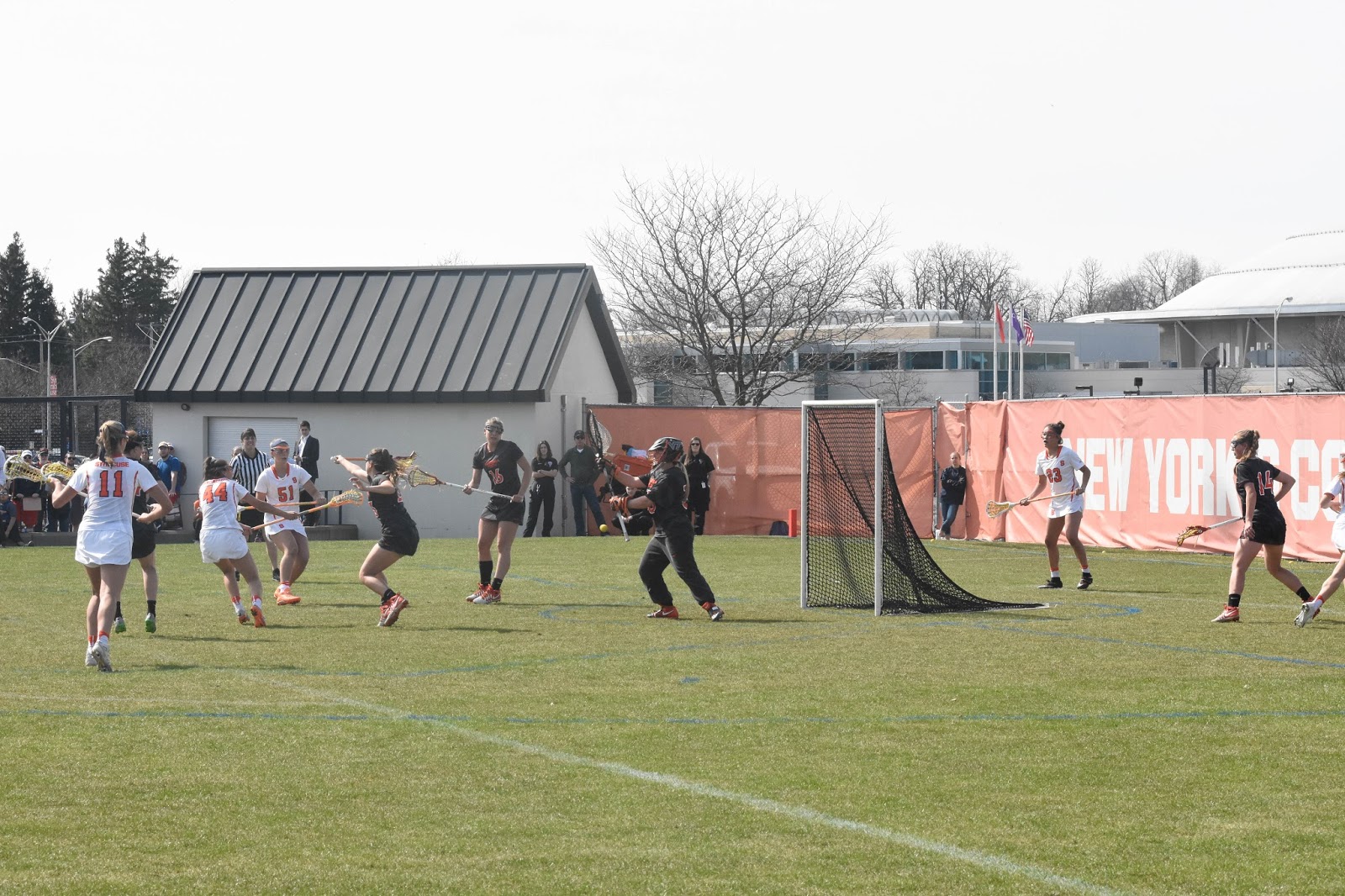 OT Win for Orange Women Lacrosse
Story by Jacqueline Mundry
Photos by Dontae Harris
SYRACUSE N.Y. —  The first day it really feels like spring always draws a lot of people outside, the No. 11 Orange women's lacrosse (10-4, 3-1 ACC) team had a chance to take advantage of the warm weather too, hosting  No. 15 Virginia Tech (11-5, 2-3 ACC) at the SU Soccer Stadium on Senior Day, Sunday.
Under sunny skies with the temperature pushing 70, the two teams gave the crowd of 1.433 a show, seesawing back and forth until SU eventually won 12-11 with a free position goal by redshirt freshman Mary Rahal in overtime.
SU head coach Gary Gait said his team had a slow start but, "never gave up and kept battling."
"It was a battle, it was a great day for lacrosse, beautiful weather out, Virginia Tech's for real," he said. "They came in and jumped on us early."
Strong Hokie defense

Syracuse (11-4, 4-1 ACC) took a 2-0 lead but the Hokies (11-5, 2-3) came back to lead 6-4 at the half. The Orange had 13 turnovers in the half, giving Virginia Tech opportunities to score. Senior attack Devon Parker said SU was focused on the Hokies' defense after watching film of how they played this week.In the second half the Orange only had six turnovers. Parker said, "focusing more on our offense instead of their defense," helped keep the turnover count down."
"When you can move the ball and not turn it over then you can get some scoring opportunities and that's what happened," Gait said.
Change in the net
At the beginning of the second half SU's starting goalkeeper Asa Goldstock was replaced with sophomore Bri Stahrr.
"I was just trying to get a different flow in the goalie end," Gait said. "Asa's been playing okay but not great and I just wanted to give Bri a chance to see if she could step up and make some big saves."
Stahrr said she thinks she played "alright."
"There were definitely one or two that I could have saved but a win's a win I guess," she said.
Stahrr received support from her teammates and coaches heading into the net. She said at practice every day one person has to say something to the team and a few days ago it was her turn so she offered a quote from The Kite Runner – "For you a thousand times over."
Right before Stahrr entered the game, junior defender Kathy Rudkin pulled her aside and said, "For you a thousand times over."

Second half back and forth
The Hokies made it 7-4 early in the second half before the Orange went on a 5-1 run and Parker's goal put Syracuse up 9-8.Tech tied it on Zan Biedenharn's 28th goal of the season but consecutive goals by Emily Hawryschuk (her 23rd and 24th) gave Syracuse an 11-9 lead with 6:27 left in regulation.
Marissa Davey's 28th goal of the year got the Hokies within one at 1:45 and then with just four seconds left, Taylor Caskey scored off a free position to send it into overtime.
Rahal got her turn just 1:23 into the overtime and she made it count. It was her 20th goal of the season.
Contributions
Gait said the win was a team effort. That rings true on both sides of the ball as there were six Hokies who scored goals, including Davey, who recorded the team's only hat trick (3 goals.)
On the other side, the Orange had hat tricks from Hawryschuk and Parker.
Up next
Both of the Hokies last two games have been lost in overtime but they look to change that when they travel to South Bend to take on the No. 12 Notre Dame Fighting Irish on Saturday at 1.
The Orange will also hit the road and  to play No. 2 North Carolina on Saturday at noon.