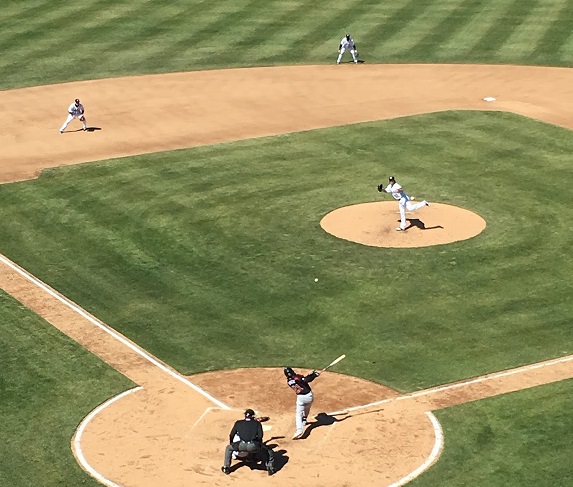 Red Wings Blank Chiefs in Season Opener
Story and Photos by Jacqueline Mundry
 SYRACUSE, N.Y. — It wasn't the opening day they'd scheduled, and it certainly was not the outcome they would have preferred but they Syracuse Chiefs finally were able to open their season Saturday afternoon after two days of rainouts.
The sun was shining with the temperature in the mid 40s for the nearly two thousand people that came out to NBT Bank Stadium to watch the Rochester Red Wings shut out the Chiefs 10-0.
New season, same goal
Last season the Red Wings had hopes of making the Wild Card until the final week of the regular season when they fell 4-and-a-half games behind Wild Card contention and 10-and-a-half games behind the division frontrunner, the Scranton/Wilkes-Barre RailRaiders.
The Red Wings came out ready to play opening the new season.
Their starting pitcher, Jose Berrios, pitched six innings and gave up three hits before being relieved by D.J. Baxendale who pitched for the remainder of the game, allowing just one hit.
"Anytime you're going against a quality starter like Berrios, you gotta get to him early and if you don't, it gets too much for them," Chiefs manager Billy Gardner said.
Bullpen trouble
The Red Wings not only shut down the Chiefs' bats, but their offense lit up the Syracuse pitchers. The problems started early on when Joe Ross gave up six hits and four runs in two and two-thirds innings. Ross is beginning the season in Syracuse but is expected to be the fifth starter on the Washington Nationals roster, assuming he is healthy.
Gardner said he thought Ross looked "pretty sharp."
"I think there were some good things, I thought the ball came out pretty good, and he showed some good sliders so there's some good stuff that came away from it, I know the numbers don't look real good," he said. "He came out good in that first inning, then had to fight to get through some traffic in the second inning."
When Ross was removed Neal Cotts pitched one and one third inning followed by Austin Adams, Dustin Antolin, Mike Broadway and Trevor Gott. The Red Wings scored their ten runs on a dozen hits. The highlight was left fielder Ben Paulsen's grand slam off Antolin in a six-run seventh inning for Rochester.
Up Next
They didn't see a home team win but Chiefs fans got to go on the field to meet and play catch with the Syracuse players before they meet the Red Wings again Sunday.
The two teams are set to play a doubleheader beginning at 1:05. It's also Jim Boeheim Added Value Day with the SU men's basketball coach slated to throw out the first pitch and then greet fans with his wife Juli for about an hour.
Rochester and Syracuse are scheduled to.meet 17 times total this season.