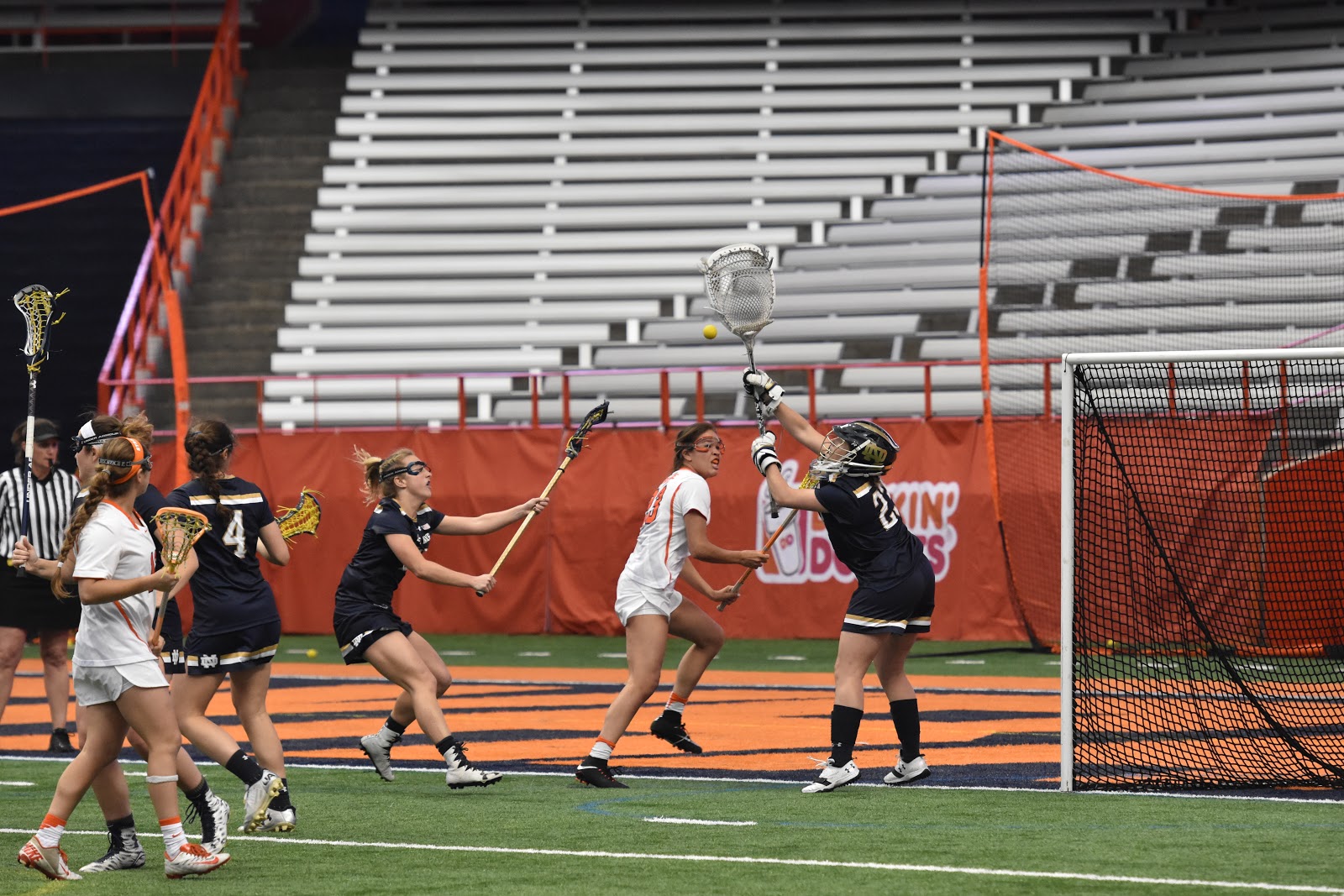 Fighting Irish Crush Orange Women in the Dome
By Andrew Leffler
Photos by Dontae Harris

SYRACUSE, N.Y. — Notre Dame's Fighting Irish came into the Carrier Dome on a three-game losing streak, Sunday and proceeded to blow out the host Orange women
16-7. The Irish took a 7-4 lead into halftime than ran away in the second half building the lead to 12-4 and there was no coming back for Syracuse
"Our seniors came out and won us today," Notre Dame head coach Christine Halfpenny said. "They remembered how awesome it felt to win in the Dome, because it doesn't happen very often. I don't know what stat we have out here, but Syracuse doesn't lose in the Dome very often. So you come here and already know that, so when things start to break your way, realistically, we rely on our preparation."
"You play a good team like Notre Dame, who are fighting for their lives, coming off three losses, and they came here with tons of energy, fired up," Syracuse head coach Gary Gait said. "Backs against the wall, and they got the best of us today, but the good thing is, the season is not over, wasn't a playoff game, it was a conference game. Just gives us more to work on."
Not so Sweet Homecoming 
The last time the Syracuse Orange women were at the Dome was March 5, when they defeated the University of Virginia 16-15. Since then, Syracuse had back-to-back losses at number one-ranked Maryland (17-7) and number three-ranked Florida (19-12), and a 16-15 overtime win against Harvard on a neutral site in Winter Park, Florida.
The 15th-ranked Fighting Irish were ready for an upset, and their play proved it. A last second goal in the first half gave the Fighting Irish that 7-4 lead. Their second half run was aided by three man-up goals while SU's Nicole Levy served a non-releasable penalty for an illegal stick. But the Irish pretty much had their way even with both teams at full strength.
"It looked like we lacked a little bit of intensity,"Gait said. "Lack in communication and chemistry out there. And then we're not flowing between offense and defense. We couldn't stop them in the end, and unfortunately we couldn't capitalize on that stop."
The Upset 
Any spectator that doesn't know or follow lacrosse could have walked in the Dome and easily thought that Notre Dame was the 4th best team in the country.
The teams finished the game with 30 shots each, but Notre Dame picked up five more ground balls than Syracuse (20-15).
Another difference maker was the free-position shots. While Notre Dame had six compared to Syracuse's 10, Notre Dame went 4 of 6 on free-position shots, versus Syracuse scoring on only 3 of the 10.
Fighting Irish Kept Fighting 
"I think they tried a couple of different defensives," Halfpenny said. "They were in their man, they were in their zone, but really I think it was just a bit more about us being a little bit more deliberate and disciplined on offense."
Halfpenny credited her seniors for carrying the team and setting the tone all game long.
Notre Dame's Cortney Fortunato finished with a game high four points, scoring three goals and getting one assist.
Luck of The Irish

Notre Dame's goal had a brick wall in front of it. This brick wall came in the form of sophomore goalie, Samantha Giacolone, who recorded 13 saves, compared to Syracuse's Asa Goldstock's 9.
"I've been working a lot on position shots," Giacolone said after the game.
"I got thrown in a lot this week in position shots because they're not my strong suit. But I think just being proactive, reactive, being quick with my hands and having my body follow. They're going to throw whatever they want on me but it's all up to me focusing on the ball. And I know they're going to go for my left side, and I baited a little bit, but it goes both ways, and today it went my way."
Giacolone mentioned getting lucky, which Coach Halfpenny disagreed with.
"I don't think our kids were lucky today," she said.
"I think they took all of their preparation, and made sure destiny was in their hands, battling and winning the ground balls, or battling on the draw because Syracuse has been very strong on the draw. Today we threw a different defensive look at Syracuse and I don't think they prepared for the style that we played today."
Syracuse scored seven goals, taking 30 shots. Giacolone made 13 saves. Do the arithmetic, and Syracuse had 20 shots that hypothetically would have gone in the net. Giacolone made sure 13 of those 20 did not.
Look Ahead

As Gait said, the season isn't over and the team has a lot to work on. The Orange women are 8-3 (2-1 ACC), and will head to Princeton on March 29, where they will face a strong Tigers team. The Irish are 9-4 (3-1 ACC) and go home to South Bend to host second-ranked North Carolina April 2.