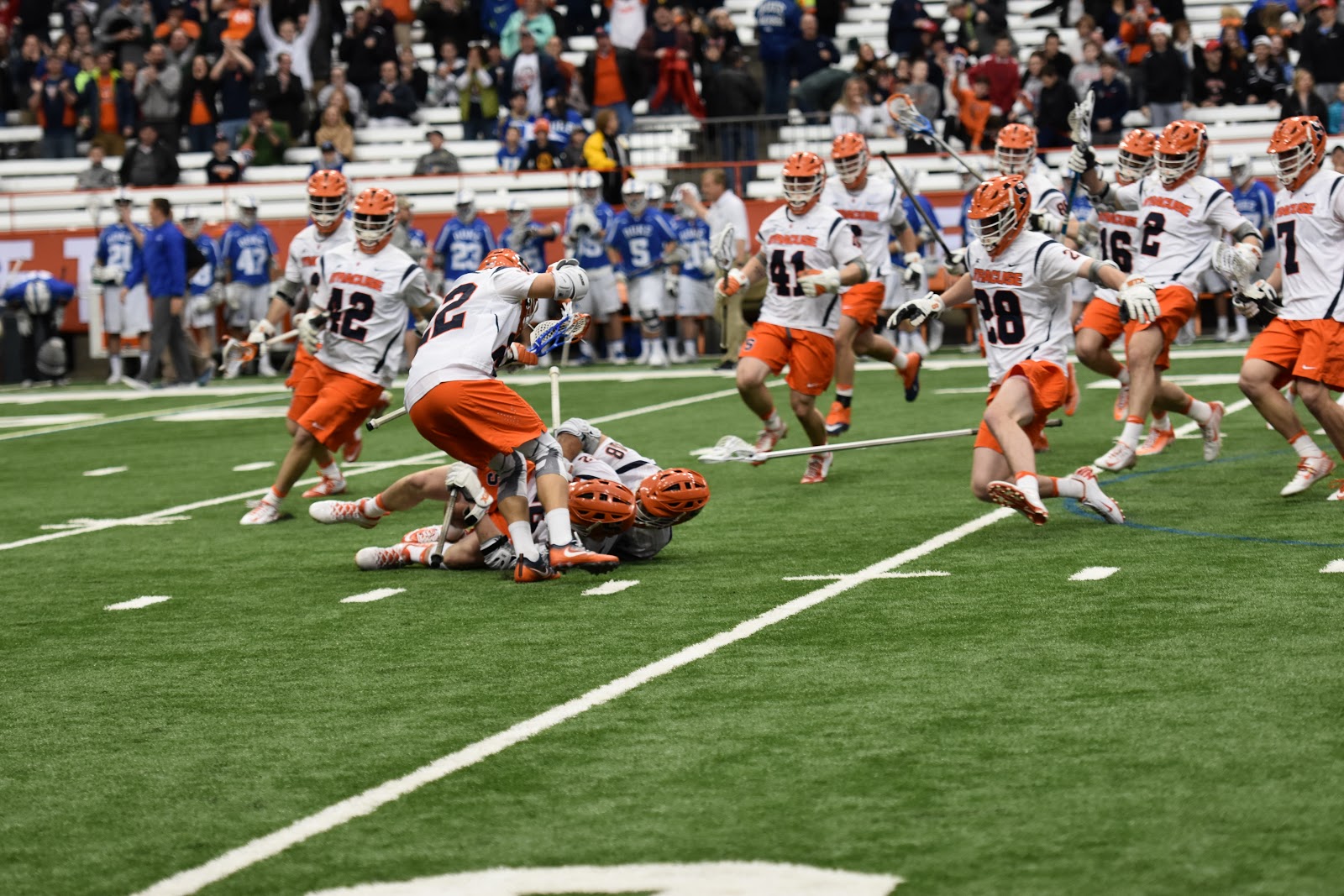 Orange Men Do It Again – OT Win Over Duke
By Andrew Leffler 
Photos by Ashley Moore

SYRACUSE,  N.Y. — It wasn't Batman dancing "with the devil in the pale moonlight," but Orange men dancing with the Blue Devils on an early Saturday afternoon in the Carrier Dome.
It was not basketball, but lacrosse and 11th-ranked Duke seeking to be the Joker and upset 5th-ranked Syracuse. But in the same building where the Orange basketball team had upset favored Duke just over a month earlier, the Blue Devils fell just  short of returning the favor, losing in overtime 12-11.
The win puts Syracuse's streak to four and marks its sixth straight game decided by one goal.
"Another W for us in overtime," head coach  John Desko said. "Hopefully we'll be able to draw from our experiences to help us in these situations."
Devils Came Ready To Battle 

Duke dominated the first half statistically but led just 6-5 at the break.

Leading scorer Jack Bruckner had two of his four goals in the first half (29 goals this season) and finished the game with five points, adding an assist in the mix. Rowe was 11 of 13 in face-offs heading into halftime. Duke had two more shots on goal (19) than Syracuse (17), and picked up 13 ground balls and keep Syracuse to under 10 ground balls (9).
"Congrats to Duke," Desko said in his postgame press conference. "I thought they played a hell of a game and they really came ready for play at the Carrier Dome.
 A freshman finishes it
Syracuse shut out the Blue Devils in the third period and took an 8-6 lead, only to see the Blue Devils go on a 5-1 run in the fourth and grab an 11-9 lead.
Brandon Bomberry cut the Duke lead to one and then Nick Mariano's 15th goal of the season tied it with 1:26 to go in regulation.
The 7,309 fans in attendance were roaring as Duke had the final possession, but did not score resulting in  sudden death overtime.
Duke face-off specialist, Kyle Rowe, who won 16 of 26 face-offs, gave Duke the early possession in overtime, but a quick turnover in Duke territory allowed Syracuse to capitalize. Freshman Jamie Trimboli ripped the shot into the net, giving Syracuse the win.
Battle at the X
"Rowe was tremendous today," Desko said. "He really does a great job getting the ball out to himself. I don't know how many ground balls he had, but I'm sure it was a bunch, and that's what makes him so dangerous."
Syracuse face-off specialist Ben Williams has been regarded as one of the best in the country, and Duke's Rowe was able to shut him down the majority of the game.
"Going up against him, he's a fantastic athlete," Rowe said. "He's much more than just a 'face-off guy,' so you have to prepare for that aspect and know it's going to be a fight. Other than that, it comes down to wing play, boxing out, and fighting for ground balls. To beat him, it takes a team effort."
Even though Duke finished the game with five more ground balls than Syracuse (25-20), and a dominant face-off performance, it wasn't enough to maintain the two goal lead in the closing minutes of the fourth period.
Saving and scoring

Both goalies made six saves.
Syracuse's Nick Mariano and Sergio Salcido both finished the game with four points. Mariano scored three goals and dished out an assist, and Salcido scored two goals and handed out two assists.
Mariano has 10 career points against Duke.
"It's like any game," he said afterwards. "You try to play every game like it's your last, like you'll never play again, but we stepped up when we needed to. Duke is always a good team to play against, they're well coached, and I just think we were able to come out on top today."
Even in almost every way
After four periods of play, and a minute of overtime, Duke and Syracuse each had 33 shots on goal, but it was that one shot in overtime that was the difference maker.
Overtime began with a Rowe face-off win, nothing new during the course of the game, but it was that critical turnover on Duke's side of the field that set up Trimboli.
"I guess the pass was for Nick," he admitted, with Mariano seated to his right. "But I caught it, and I rolled, and the guy fell over my shoulder, saw open space, and kinda shot the ball as a hard as I could."
.
Irish on tap

Besides the win against Duke extending Syracuse's win streak to four, it was also the fourth straight win decided by one goal, and the fifth of the season. SU's only loss also game by one goal to Army. The Orange are now 6-1, and will head to South Bend to face second-ranked Notre Dame April 1, while the Orange women will play Notre Dame Sunday at noon in the Carrier Dome.