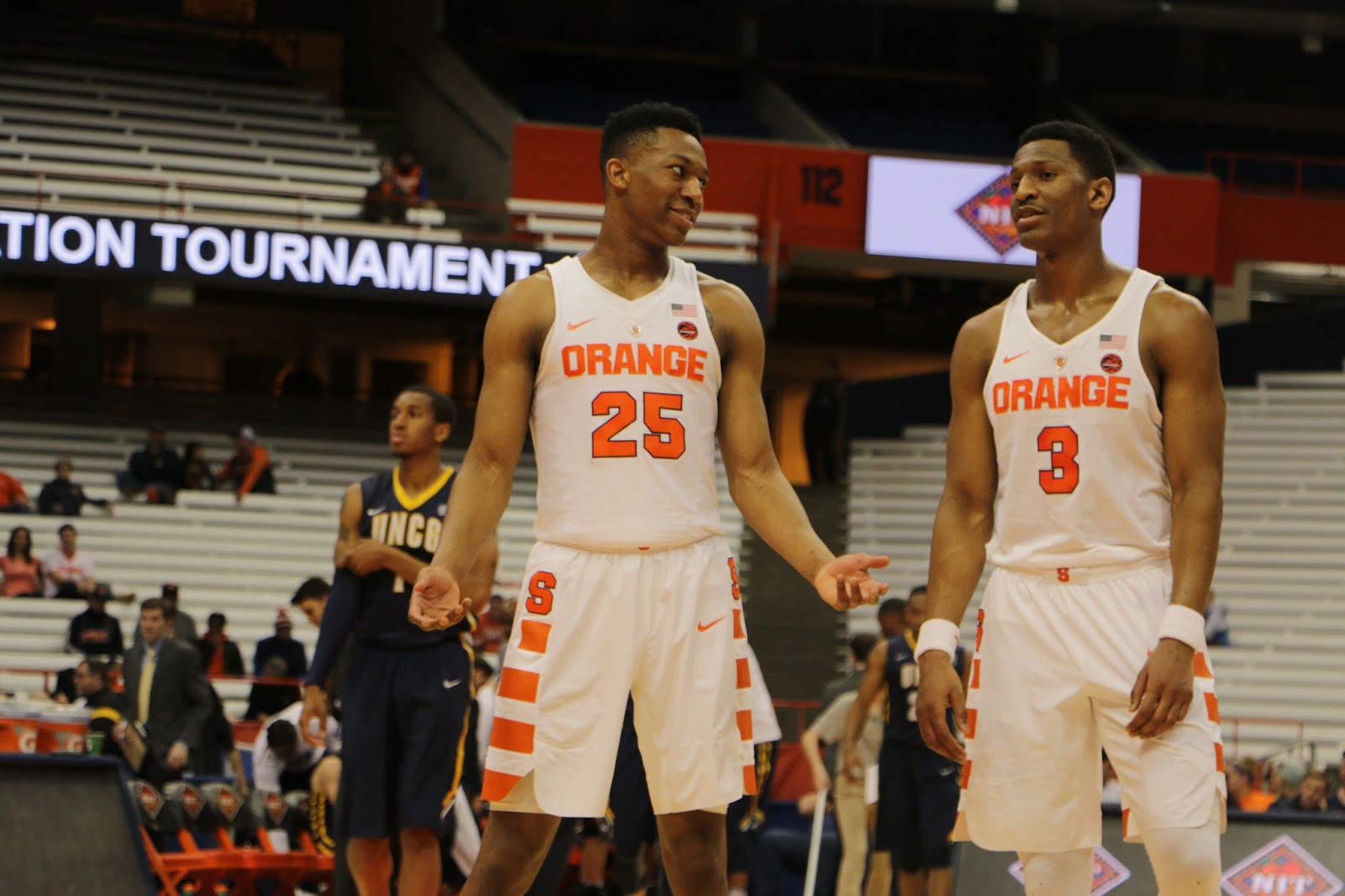 Orange Men Hold Off UNCG to Advance in NIT
Story and Photos by Jon Cerio
SYRACUSE, N.Y. — There were no "Greensboro versus Boeheim" t-shirts visible in the Carrier Dome on Wednesday night – there were barely any Orange ones.
One day after blizzard conditions postponed a first round NIT matchup between Syracuse and UNC Greensboro, Syracuse weathered the storm against a tenacious Spartan team in front of 4,288 hardy fans, 90-77.
"I thought the people were good," Syracuse head coach Jim Boeheim said.  "I thought they were very good. Obviously, it's tough to get out and get here."
Crystal Clear

A game that the Orange appeared to be in control of in the second half wound up becoming a bit of a nail-biter down the stretch as the Spartans cut a 22-point Syracuse lead to seven.
While the coach's comments in Brooklyn about there being no reason to hold the ACC tournament in Greensboro led to a mini-tempest in the media a week before, Boeheim had nothing but praise for Greensboro's hometown college team.
"I think that UNCG is a very good team," Boeheim said.  "I thought to get them down 22 the way they played – I mean they won their last seven regular season (games) and came within a shot of getting to the (NCAA) tournament."
From the start, UNCG made it clear it was not to be taken lightly.  Kyrin Galloway got behind the Syracuse zone and put the first points on the board with a slam dunk on the assist from Diante Baldwin.
A Tyus Battle three and a pair of Taurean Thompson mid-range jumpers put the Orange up 7-2.  Over the next 2:21, the Spartans made it a one-point affair, after a Francis Alonso three made it 10-9.
Syracuse went back inside to Thompson, who connected on his eighth point in the first 6:30.  But the Spartans exploited the zone on the other end with a James Dickey dunk.
White-Out
That's when Andrew White III took over.  White connected on nine straight Orange points from deep in 1:27.  Those in attendance made themselves heard.
"We obviously shot the ball really well and played well," Boeheim said.  "When he gets it going like that he doesn't miss many."
"My big thing was just trying to get juiced up early – get going early," White said.  "Because obviously the vibe was a little different, the stakes were a little different, so I just wanted to try and light a fire up under my team and just make sure that we were ready to go and play this game so that we could take care of business."
In fact, White broke Gerry McNamara's Syracuse school record of 107 made threes in a season in Wednesday night's game.  White has made 109 on the season, and was 7-9 from deep in this one.
"Andrew shot the lights out," freshman guard Tyus Battle said.  "I feel like when we give him the ball and the ball goes up, it's going in the basket. I'm really lucky to be playing with a shooter like that."
Offensive Flurry
Greensboro wasn't deterred.  They answered with a Demetrius Troy triple, followed by a third dunk – this one from Galloway to tie the game at 21 with 9:53 remaining until the half.  After a White jumper, Troy again connected from downtown, giving the Spartans the lead at 24-23.
That was the last lead of the game for UNCG, as Syracuse went on a 12-0 run, including Frank Howard and Andrew White threes, a Battle field goal, and a Tyler Lydon slam off the nifty assist from Howard.  It was 35-24 with 6:11 til the half.
Another three from Troy got the lead back down to six at the 4:10 mark, but Syracuse pushed it back to double digits two minutes later and took the 47-37 advantage into halftime.
UNC Greensboro found success inside, with 18 points in the paint in the first half.  The Orange cashed in on 10 fast break points.  White shot 7-10 from the field for 19 points, and the team as a whole hit 64 percent from the field in the first 20 minutes.
Snowball Effect
Syracuse stretched its lead to 17 in the first 3:39 of the second half.  Tyus Battle had six of his 20 in that stretch.
Aside from some easy dunks from Dickey and Baldwin, the Orange looked to be in control, ballooning the lead to 22 with under twelve minutes remaining, 69-47.
Digging Out
But the Spartans weren't done.  An 8-0 run, including four points from RJ White, cut the lead to 14.
Syracuse kept the lead in the double digit range however, at least until the waning minutes.  At the 5:38 mark, White hit from deep for three of his game-high 34.  Then Greensboro went on an 11-0 run, capped off by a Diante Baldwin three.  It was 81-74 Orange with 2:05 to play.
That was as close as UNCG got.  Syracuse closed out the game at the line, hitting nine free throws down the stretch.
Forecasting the Future
"I don't think Syracuse has ever won an NIT Championship before, so we'll be making a little bit of history," Battle said.  "As a competitor, I just want to win and that's the main thing – winning games. I don't care if it's the NCAA Tournament or the NIT – we're just trying to win and keep on playing."
The Orange (19-14) advances to the second round of the NIT tournament, where it will host Ole Miss (21-13) on Saturday at 11 a.m.  The Rebels defeated Monmouth in the first round on Wednesday, 91-83.
"I saw part of their Monmouth game, we'll see that tonight," Boeheim said.  "Monmouth is really good and tough to beat at home. I thought they really played well. That'll be a tough game."