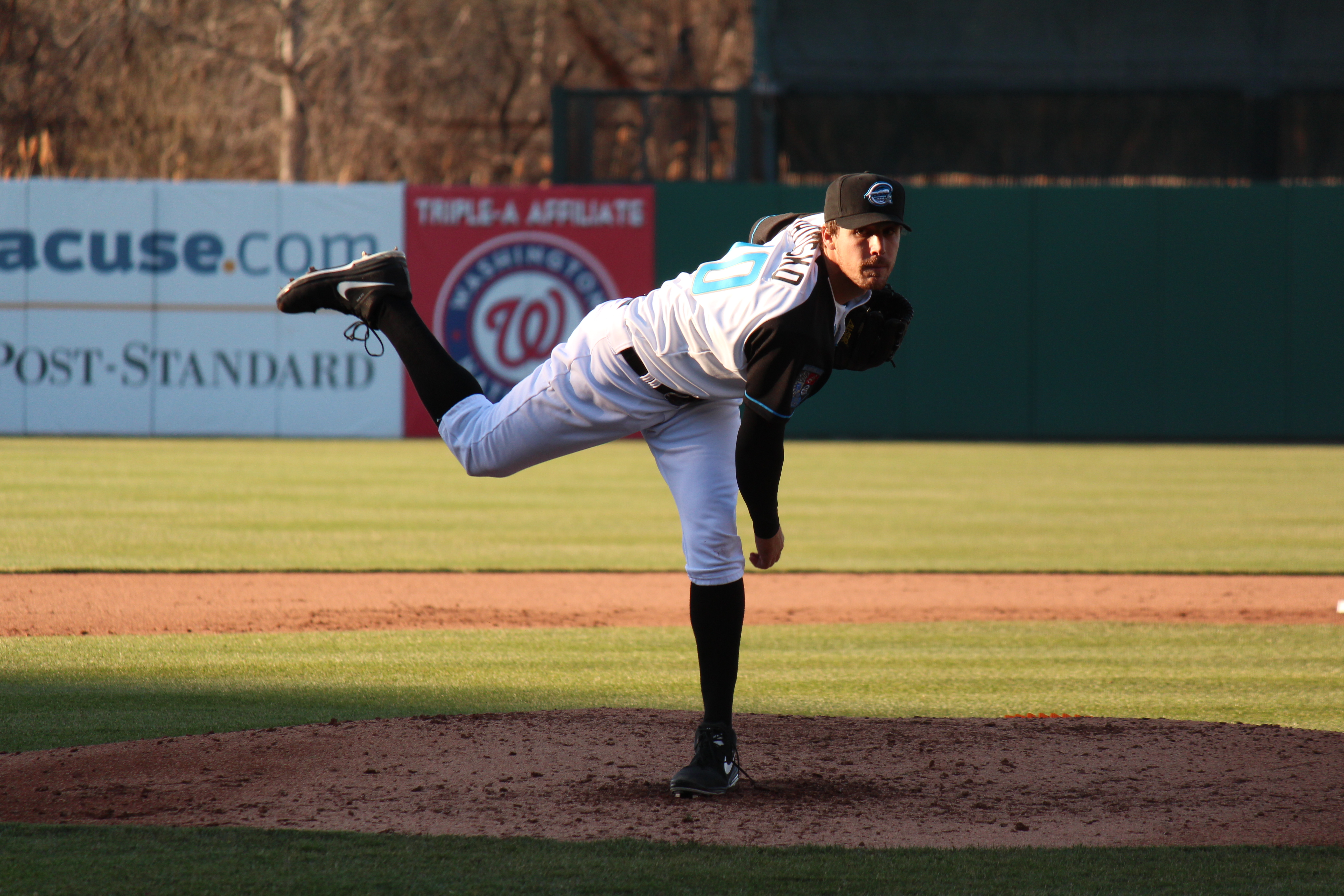 Chiefs Split Doubleheader Against IronPigs for First Series Win
Story and video by Mike McCann
Photos by Kayla Chadwick 
SYRACUSE, N.Y. (Newhouse Sports Media Center)– What started as Ugly Sweater Night at NBT Bank Stadium turned quickly into ugly at-bats for the Syracuse Chiefs. But after being shut out in game one of their doubleheader against the Lehigh Valley IronPigs, the Chiefs responded with a brilliant pitching performance to take game two 3-0, earning a split for the day and taking the series 2-1 — their first series win of the young season —  in front of a combined attendance of 3,125.
Game 1: IronPigs 4, Chiefs 0
Game one started as a pitcher's duel, before Lehigh Valley blew things open late. Both Chiefs starter Ryan Tatusko and IronPigs starter Greg Smith were tremendous, fooling hitters and inducing outs early.
The game started perfectly for the Chiefs, literally. Tatusko struck out the side in the first, with all three batters swinging through strike three. The strong start came as a bit of surprise, as Tatusko had only six strikeouts through 8 2/3 innings coming into the game; he would not strike another batter out all night.
But Smith was even better. The former Colorado Rockies pitcher retired the first nine batters he faced before allowing a Eury Perez single to lead off the fourth.
"Smith did a good job keeping us off balance," Chiefs manager Billy Gardner said. "We just really didn't adjust like we needed to."
The IronPigs got the scoring started in the second. Reid Brignac took an inside fastball and launched it over the right field wall for a solo home run, his second of the season.
After the long ball, though, Tatusko stepped up. The one-time Texas Rangers prospect would retire the next six batters he saw, keeping his team in the game despite continued struggles at the plate.
The offense picked up for both teams starting in the home half of the fourth, when the Chiefs had their first real chance. After that leadoff single by Perez, Emmanuel Burriss sacrificed him into scoring position, before Will Rhymes moved Perez to third on a long flyout to right field.
That brought up Brock Peterson, who put together a tough at-bat against Smith. On a 3-2 pitch, the big first baseman tattooed one to center field — maybe the hardest-hit ball a Chief hit all game. But it hung up just long enough for IronPigs center fielder Tyson Gillies to track it down and end the threat.
"Smith just mixes his pitches well," third baseman Brandon Laird said. "He's not throwing very hard, but a guy who knows how to move in and out, throw pitches in the right count…speed you up and slow you down…he did a good job of that today."
Any momentum the Chiefs may have gained from some life in the fourth was gone quickly, as Koyie Hill led off the fifth with a double into the gap in right-center for the IronPigs. Hill would eventually score on a Ronny Cedeno fielder's choice, making it 2-0 Lehigh Valley.
The Chiefs threatened again in their half of the inning, but again failed to capitalize. Jhonatan Solano doubled to left-center to lead off, but Syracuse went strikeout, flyout, groundout from there, and just like in the fourth stranded a runner at third.
All in all, the Chiefs would leave four runners on base — far too many missed opportunities against a starter as sharp as Smith.
"[Smith] did a good job of situational pitching," Gardner said. "We've been pretty good getting runners in with less than two outs, but it just didn't happen [in game one]."
In the top of the seventh, Brignac did some more damage for the IronPigs off of reliever Manny Delcarmen. After a leadoff single from Jim Murphy, Brignac laced one into the left-center field gap for an RBI double. Steve Susdorf then lifted a sac fly to center , scoring Brignac from third to make it 4-0 and essentially putting the game out of reach for a Chiefs team that had only two hits to that point.
Wednesday night it was the Chiefs' resolve that shone through, as they came back to win 6-5 after spotting the IronPigs four runs in the first. There would be no such magic tonight; Smith would allow two hits in the seventh, but soon slammed the door shut to finish off a complete-game gem.
In all, Smith allowed no runs and four hits while striking out six in his seven innings of work, earning his first win of the year. He was efficient all night; he didn't walk anyone, and 61 of his 83 pitches found the strike zone. Tatusko, who pitched six strong frames in a losing effort, took the loss to fall to 0-2 on the year.
For Syracuse, the offensive struggles are becoming old news. The Chiefs failed to score a run for the second time this year, and they've now scored three runs or less in nine of their first 12 games.
Game 2: Chiefs 3, IronPigs 0
Chiefs fans should be excited about watching Aaron Laffey in the future. If he pitches like he did tonight, though, they may not get too many opportunities.
In his first start with the Chiefs, the lefty dazzled in 5 innings of work, surrendering just two hits with no walks, six strikeouts and no runs or walks in an absolute duel with IronPigs starter Brad Lincoln.
"I was just able to get ahead," Laffey said of his success. "Me and [catcher Jeff Howell] did a great job of working together — it's our first time working together, but it felt like we worked together all season already."
The 6'0 left-hander Laffey has spent plenty of time in the big leagues, pitching with the Indians, Mariners, Blue Jays, Yankees and Mets. The Nationals signed him to a minor league contract after the Orioles released him in late March, and his major league experience showed on the mound tonight. After allowing a hit to the first batter of the game, Laffey retired the next nine in a row.
"Whenever somebody throws like that, all you want to do is make plays for him," Laird said. "He's out there giving all he has, and we're doing the same thing on defense."
But Lincoln matched Laffey pitch for pitch. Formerly the property of the Blue Jays and Pirates, the now-Phillies farmhand didn't allow a baserunner until he walked Eury Perez to lead off the fourth. He allowed his first hit one batter later, a single to Brian Goodwin, giving the Chiefs their first signs of life.
After Perez and Goodwin reached, Rhymes moved them each up a base with a swinging bunt. That was followed by a sacrifice fly from Brock Peterson, which gave the Chiefs their first lead of the night — and their first run of the doubleheader — at 1-0.
After Syracuse got him a lead, Laffey went right back to work, making sure it would keep the momentum.
Laffey set down the 6-7-8 batters in the IronPigs lineup on six pitches, before turning things over to the bullpen to start the sixth.
"[I] just tried to get ahead," Laffey said. "If you come out and walk the first batter of the inning, it's one of the worst things you can do."
But the Chiefs weren't done at the plate. After Laffey's strong showing in the top half, Syracuse's offense exploded in the bottom of the fifth — by its current standards, anyway — for three hits and a run, including an RBI single from Jose Lozada.
"We did some good things from a situational standpoint, getting runners over and getting them in," Gardner said. "I thought we did a better job with pitch selection in the second game."
But you can't win a game with a 2-0 lead unless your bullpen is sharp, and the Chiefs delivered tonight.
Warner Madrigal was the first off the bench for skipper Billy Gardner. Madrigal pitched a perfect sixth inning, getting two pop outs before striking out Tyler Henson to retire the side.
Gardner then handed the ball to Aaron Barrett, who earned his first save of his Chiefs career after saving 26 games last year for AA Harrisburg. Barrett is a right-hander with a live arm who has already been very solid in the big leagues for the Nationals this year.
"It's been a while since I've been out there, so I felt a little rusty," Barrett said. "It was good getting out there and competing and it was a great team win."
With the win, the Chiefs took their first series of the season two games to one. Syracuse must turn the page quickly though, as it welcomes the Rochester Red Wings to NBT Bank Stadium for a four game series starting tomorrow at 6:00 P.M.
Billy Gardner Post Game Interview
Aaron Laffey Post Game Interview
Brandon Laird Post Game Interview