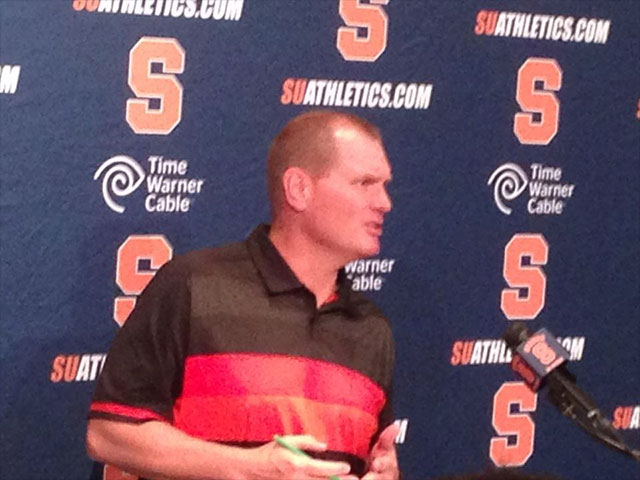 SU Football is Ready For Home Opener Against Wagner
(Syracuse)- Drew Allen will start this weekend in the home opener against Wagner, but Terrel Hunt will also make an early appearance in Saturday's game, according to head coach Scott Shafer.
Hunt, who had a 15-yard run to record his first career touchdown last weekend against Northwestern, will take the field early to lead the Syracuse offense. Coach Shafer thinks it's important to get both players into the game to improve the quarterback position.
"The position hasn't been consistent enough," said Shafer during Thursday's press conference. "We're looking for consistency."
In last weekend's game against Northwestern, Shafer saw good things on the field from Allen, who had a 66-percent completion rate, but it was the number of turnovers that hurt the team's offense.
This week, the Orange are focusing on a number of target areas, which include protecting the ball better on offense. Every week the objectives for the team change, but certain areas remain consistent for the team, including:
· On the first down: gain four or more yards, sixty percent of the time
· Taking advantage of the third down by controlling the number of plays it takes to get to the first down.
After a week of focusing on their target areas, Shafer said the Orange are ready to play in the Dome for the first time this season.
"The kids are excited to get home," said Shafer. "Let's get the student body out there and enjoy playing in front of your friends on campus, as well as the community."
The players are not the only ones excited to face the Seahawks, Shafer says he is also ready for Saturday's game.
"From a personal point of view, I'm really excited to give the fans something they appreciate," said Shafer. "I just look forward to it, I couldn't be more excited for this one."