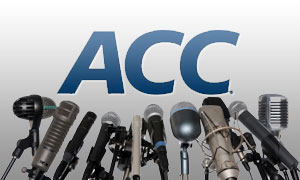 ACC Midweek Press Conference
SYRACUSE, NY — Leading up to this weekend's football home opener, the ACC held its weekly teleconference with each head coach. The Syracuse Orange (0-2) take on the Wagner Seahawks (1-1) in a interstate matchup. The hot topic this week surrounds the quarterback position. Drew Allen, the fifth-year transfer from Oklahoma, has started both games with inconsistent play. Sophomore Terrel Hunt, who was thought to be the front-runner during training camp, is expected to play more significant time on Saturday.
Below are press highlights from Syracuse coach, Scott Shafer.
Q. I know you've been asked a lot about your quarterbacks. With Drew, the way he played in the first two games, have you been able to pinpoint in watching the tape why he's had some of the struggles he's had?
SHAFER: With Drew, first thing is, we had two good opponents in Penn State and Northwestern. He got thrown to the wolves early, which is in the long run is going to be a good thing.
I was pleased with his increased completion rate. I think he was 66% in the Northwestern game. Biggest thing with Drew, he's got to eliminate the turnovers. Sometimes he'll get locked in on a target. He's just got to do a better job checking down. When things are muddy, he has to go down to the check-down, get the ball out of the backfield, not try to force things.
Q. I'm wondering if going into this week there's anything you say to Drew so he doesn't play with any sort of feeling pressure?
SHAFER: I think more than anything, it's just getting into the flow of the game, trust his eyes, go play, have fun, enjoy the process. I think any time you have a player at any position that is trying hard to continue to improve in his game, you want to make sure that his focus isn't so tight and narrow that he's not playing with the flow of the game.
Q. Obviously you're off to a tough start. Given the opponents you played, people wouldn't expect you to be off to a much better start. Are you where you thought you would be at this point in the season?
SHAFER: I have to look at all the different pieces and parts that make up the formula. We played poorly, especially coming out of the first half against Northwestern. Some of the things we need to continue to focus on is, first and foremost, the turnover ratio. We're sitting at minus three. You can't win a lot of games when you're at minus three. We need to get in the plus category. That's been a focus last week as well as this week.
Q. The thought process after the Northwestern game, how seriously did you consider starting Terrel and how did you get to the ultimate decision where you wanted to give Drew another shot to start against Wagner?
SHAFER: We went through it. For me it was, Let's take a look at who we have playing, what areas we have to improve on. Are they areas we feel any player could improve upon? In his situation, I felt strongly that he could definitely do that.
But I also feel good about the fact that Terrel went in and did a good job, played well. I liked his approach and attitude. Both guys will be ready to play this weekend.
Q. Considering Wagner is an FCS team, does that factor into the decision at all?
SHAFER: No. We have a team coming off a championship season and broke records. Regardless of where they're at, a championship team is a championship team. We need to approach it the same way we would any solid football team we're going against.
Q. Recap the last two games. What do you need to work on this Saturday against Wagner?
SHAFER: We have to look at turnover ratio, both offense and defense, and strive towards trying to get on the plus side. We're at minus three. I'd love to come out of the Wagner game and be at plus one or better and feel good about that offensively. Then defensively eliminating the big play.
That's been our focus this week on both sides of the ball, and we're looking forward to reaching our objective against Wagner.
Q. What do you see in Wagner in the video? What type of team are they on the field?
SHAFER: They're a team that plays extremely hard on both sides of the ball. They're a team that has some returning veterans that were part of a storied season, winning their conference championship in 2012. They put up 35 points a game on offense right now. They have a running back that's averaging over 200 yards a game in Dominique Williams. They have a quarterback that is mobile, can both throw and run, and can create plays to be extended with his feet.
Catch the action Saturday, when the Syracuse Orange face the Wagner Seahawks.
The game will air live on ESPN3, from the Carrier Dome, at 4 PM EST.